Gjøvik International Chess Festival 2008-09
100th-Year Celebration of Gjøvik Sjakklubb (Norway)
The festival bulletins issues 1 - 10 (pdf) are now available at the menu choice
Bulletins
!
18 year old IM Jon Ludvig Hammer from Oslo won the Gjøvik 100th anniversary tournament alone with 7 points from 9, ahead of 10 strong GMs how whom 6 were rated above 2600. In last round he defeated also Polish GM Bartel with black, and Hammer now becomes Norway's tenth Grandmaster.
More...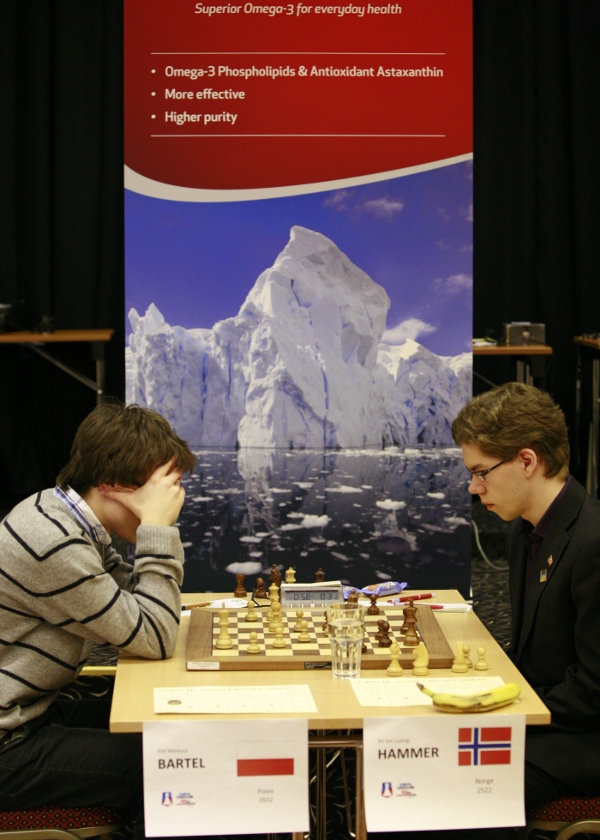 Jon Ludvig Hammer during last round at Gjøvik, winning against GM Bartel (2602) of Poland.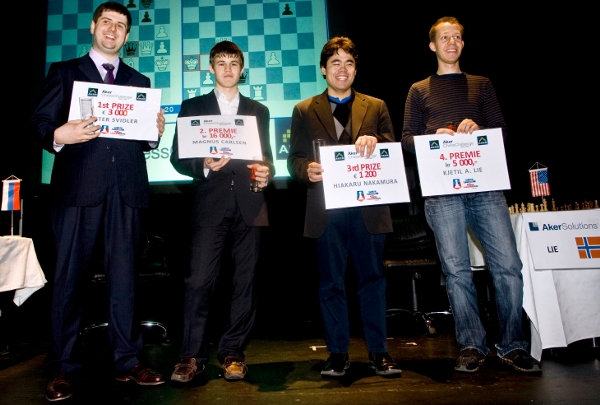 Nakamura sacrificed to claim a draw by repetition in his second rapid chess game and so beat Lie 1.5 - 0.5 in the bronze final, while Carlsen and Svidler fought to the last second in a highly dramatic duel that in the end Magnus Carlsen lost. Thus it was the sympathetic Peter Svidler that emerged as the winner of Aker Chess Challenge. More...
Final results from the GM Swiss anniversary tournament and Gjøvik Grand Prix are available on the TournamentService site. Games from the GM Swiss tournament and Aker Chess Challenge are available from the menu, and we also have the results from the Gjøvik Children's Grand Prix 2008 and 2009.
Friday evening a relatively big blitz tournament was played with 53 participants. IM Øystein Hole was the final winner.
The company Aker is the main sponsor of Gjøvik Chess club 100th Anniversary Festival.
The festival high point, the rapid chess tournament between the star players Carlsen, Svidler (Russia), Nakamura (USA) and Lie, has been named "Aker Chess Challenge". The drawing of lots takes place on January 1st at 19:30, and the opening ceremony is in the Cinema hall Friday at 12:40. This is the first time in almost a year and a half that Norway's young chess hero Magnus Carlsen participates in a Norwegian tournament, a big event in itself.
Don't miss out on Hans Olav Lahlum's excellent portraits of the best foreign and Norwegian players.
The Tromsø 2014 chess olympiad candidate is another exciting partner for our festival. See their web site Tromsø 2014
We congratulate Peter Svidler on his fifth(!) Russian Championship! Seize the chance to see him play against Carlsen, Nakamura, and Lie from January 2nd here in Gjøvik.
25 years after the famous 75th year Anniversary tournament of 1983 and 17 years after organizing the Norwegian Championship, including the match Karpov – Agdestein, we again welcome you to participate in the Gjøvik International Chess Festival 2008-09 to celebrate the first 100 years of Gjøvik Chess Club.
Festival program:
Opening ceremony for the festival
Monday 29th at 17:30
GM Swiss Tournament, GM-qualifying for everyone over 2100
Monday 29th - Wednesday 7th
Open Swiss Tournament, open for all players below 2100
Monday 29th - Wednesday 7th
Gjøvik Grand Prix 2008-09, open Group A, qualifying for FIDE-rating
Monday 29th - Friday 2nd
Gjøvik Grand Prix 2008-09, Group B, for rating below 1500
Monday 29th - Friday 2nd
The Open Norwegian Rapid Chess Championship 2009, Group A, B og C
(can be combined with any of the above listed tournaments)
Saturday 3rd - Sunday 4th
The Aker Chess Challenge rapid chess with Carlsen
(live comments)
Friday 2nd - Monday 5th
Presentation with Sergey Tiviakov about Sicilian with c3
Tuesday 30th at 21:00
Clock-simul with European Champion Sergey Tiviakov
Thursday 1st at 21:00
Chess courses and presentations on several levels
Various times
Gjøvik Children's Grand Prix 2008
Tuesday 30th at 14:30
Gjøvik Children's Grand Prix 2009
Friday 2nd at 09:15
Open blitz tournament
Friday 2nd at 18:00
Open Handicap Blitz tournament
Sunday 4th at 18:00
New Years party for all chess friends
Wednesday 31st at 20:30
All events are held at the Thon Hotel Gjøvik, supplemented with adjoining Gjøvik Cinema under the same roof, unless otherwise stated. Gjøvik Childrens Grand Prix is held at Quality Grand Hotel Gjøvik.
Playing shedules:
GM Swiss and
Open Swiss
Rating A and
Rating B
Open Rapid Chess
Super Rapid Chess
Monday Dec. 29th
Round 1
Round 1
Tuesday Dec. 30th
Round 2
Round 2
Wednesday Dec. 31th
Round 3
Round 3
Thursday Jan. 1st
Round 4
Round 4
Friday Jan. 2nd
Round 5
Round 5
Rounds 1 and 2
Saturday Jan. 3rd
Free day
Round 1 - 5
Rounds 3 and 4
Sunday Jan. 4th
Round 6
Round 6 - 8
Rounds 5 and 6
Monday Jan. 5th
Round 7
Final and Bronze final
Tuesday Jan. 6th
Round 8
Wednesday Jan. 7th
Round 9