IM Jon Ludvig Hammer, Oslo
(ELO 2522 – born 02.06.1990)
Undoubtedly much to his own frustration, 18 year old Jon Ludvig Hammer find it difficult getting out of Magnus Carlsen's large shadow. Still Jon Ludvig – challenged only by his school teacher Simen Agdestein – is the second greatest chess talent of Norwegian history, and has an obvious potential to become a 2600-player.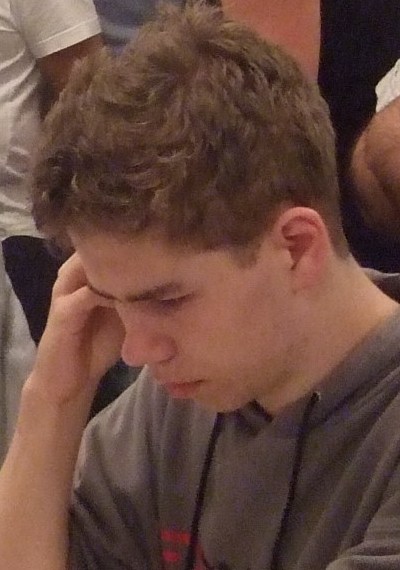 Following outstanding progress in 2007 and even more outstanding progress in 2008, he starts the new chess year of 2009 as a classical example of a whiz-kid having succeeded within his junior years to reach grandmaster level. He first established himself as the second best player of the feared 1990-boys about age nine. Having won numerous Norwegian championships for youths, he completed his IM-title in the spring of 2007. Shortly before that he aged 16 made his first GM-norm in the French giant Swiss Cappelle la Grande. His second norm came in Denmark earlier this year, and the third one in the European Club Championship for teams this autumn. The latter championship however is played with only seven rounds, and as both his first norms came in nine rounds tournaments, he still needs one more norm to complete his title. From a Norwegian perspective, whether he succeeds is a more interesting question than the winner of this GM-Swiss.
Hammer obviously arrives Gjøvik eager for revenge, as he despite his strong results this year has had two bitter pole outs the last months. In September he unexpectedly lost the play-off for the Norwegian championship 1.5-0.5. And in November he missed his final GM-norm by half a point when scoring 6.0/10 for Norway in the Olympics – after playing the longest game of the Olympics when he with well known stubbornness tried to win with rook and bishop versus bishop and knight in his ninth game...
Following three norms and several close results, Hammer now climbs rapidly towards the 2550 mark. He undoubtedly is much more solid and complete than he was, especially in his openings, but still has kept his creativity and stubborn will to win. Obviously he has the GM-title within short reach. It remains to test out whether it will be in this Gjøvik tournament he finally keep his nerves and has the necessary margins in the critical moments. Anyway Jon Ludvig Hammer is a very interesting player as well as a very colourful personality, who whatever the result will contribute much to the entertainment and excitement of this tournament.
Text: Hans Olav Lahlum